Whether you're a new entrepreneur or an established one, nothing hurts as much as investing time, energy, and money into your website only to see it fall flat. As the one-stop shop to learn about your genius, your website should be the #1 salesman working night and day for you, turning cold leads into "take my money" conversions.
But if it feels like you're the only one ever checking out your website, then it's time to consider that something needs to change. And contrary to popular belief, it's not always about updating your website with the latest bells and whistles in graphic design or smooth transitions. Instead, more often than not, it's just a matter of updating your website copy.
And don't get us wrong. Consumers typically only give your website 0.05 seconds to impress them, meaning graphic design DOES matter. But while the optics capture their attention, your web copy is what gets them to stay. So if you're struggling to increase those "booked" notifications, read on to find out five mistakes you're making with your website copy and how you can turn things around to start increasing your conversions by effectively capturing the attention of your ideal clients!
Not Planning Out Your Copy 
The #1 mistake we've seen entrepreneurs make with web copy is not planning their copy. And if you're DIYing your website copy, then we get it! Website copywriting is likely entirely new for you, and you may not exactly know where to start. That said, we still strongly advise against cutting out this process. Planning out your web copy is vital in helping you chart out the goals of your website and ensuring that every page does what it needs to do.
When you don't plan out your copy, you might unknowingly run off-topic or unnecessarily direct your audience to things that aren't a priority. This could leave a prospective client feeling lost and helpless, which could cause them to give up on you altogether. And because we're not here for that, this is why we suggest spending some time planning your copy! Consider the objective of each page, what each page should direct a viewer to, and the effective placement of CTA's.
Using Too Much Copy 
The next mistake you may make (or have already made) with your web copy is having too much of it on your website. Research shows that consumers do not read websites thoroughly. Instead, 79% of users typically scan a page looking for what they need. This means that filling up your website with a ton of copy is more likely to make viewers frustrated rather than enlightened.
To remedy this mistake, you'll want to review your copy and focus on ensuring your headlines highlight what they'll find in the accompanying sections and ensure all copy is clear and concise rather than clever and cute. You'll also want to ensure that your website copy includes the keywords your viewers will be looking for. Tip: It might be a good idea to test your website copy by asking an ideal client to view it and give feedback!
Draining Out Your Voice 
Alright, let's talk about draining your voice from your copy. Because, again, if you're new to website copywriting, this mistake is easy to make. Many of us think that our websites have to be some polished versions of our brands, and while that is true to an extent, it doesn't mean that your website copy has to be void of your brand voice.
In fact, using your brand voice is one of the most important and influential ways to make your website stand out from the competition. So instead of keeping it professional and saying what you THINK you're supposed to say, consider injecting the aspect of your brand voice that your audience has grown to love. Include your colloquialisms or unique factors that set you apart, and let your website come alive not just from the graphics but from the copy!
Not Making the Most of Microcopy 
Okay, full disclosure! While this next one is a mistake you might be making with your website copy, it's also *technically* a nifty trick amongst copywriters, and it's all about making the most of microcopy.
Microcopy is the tiny little bits of copy that your viewers find all over your site. This can include:
Your CTA buttons
Your 404/Error Page
Form Field Text
Chat bubbles
But here's the problem. Most entrepreneurs who DIY their copy typically leave these things in their generic forms with the standard "sign-up here" button or "Error! Something went wrong" page. But if you're looking to increase your conversion rate (which we assume is why you're here), it also means you're looking to grow or pique the interest of prospective clients who don't know you yet. And making the most of your microcopy is hands down one of the best and easiest ways to do that.
It's in these little moments when you let your voice shine (as we spoke about above) that will surely surprise and delight your viewers, make them feel as though they know you a little better, and increase their confidence in you and their likelihood of reaching out! Not sure how to up your microcopy? Consider changing a CTA to "see the magic" or an Error Page to "whoa. This is embarrassing" to add some fun! (Do what makes sense, of course!)
Not Doing a Grammar Check 
This one is last on our list, but it's just as important (if not as important) as all the other mistakes. Why? Because there's nothing worse than spending money on a website designer while you spend hours writing copy for website pages only to have it riddled with grammatical errors.
Research has shown that 59% of adults abandon websites with poor grammar and spelling issues. This means that grammatical errors are not only one of the FASTEST ways to make a terrible first impression on potential new clients/customers, but it's also the FASTEST way to make them exit out on that website you worked so hard on.
To remedy this mistake, make sure you spend some time doing a grammar check on any website copy that you create. And trust us, as full-time copywriters, we know how it can be. When you get into a zone and pump out copy, you're sometimes just super confident and ready to hit the publish button by the end. But because we're only human, remember that we're all prone to mistakes. So run it through grammarly.com and check all your headlines with our favorite headline checker. It'll save you a world of headaches and embarrassment.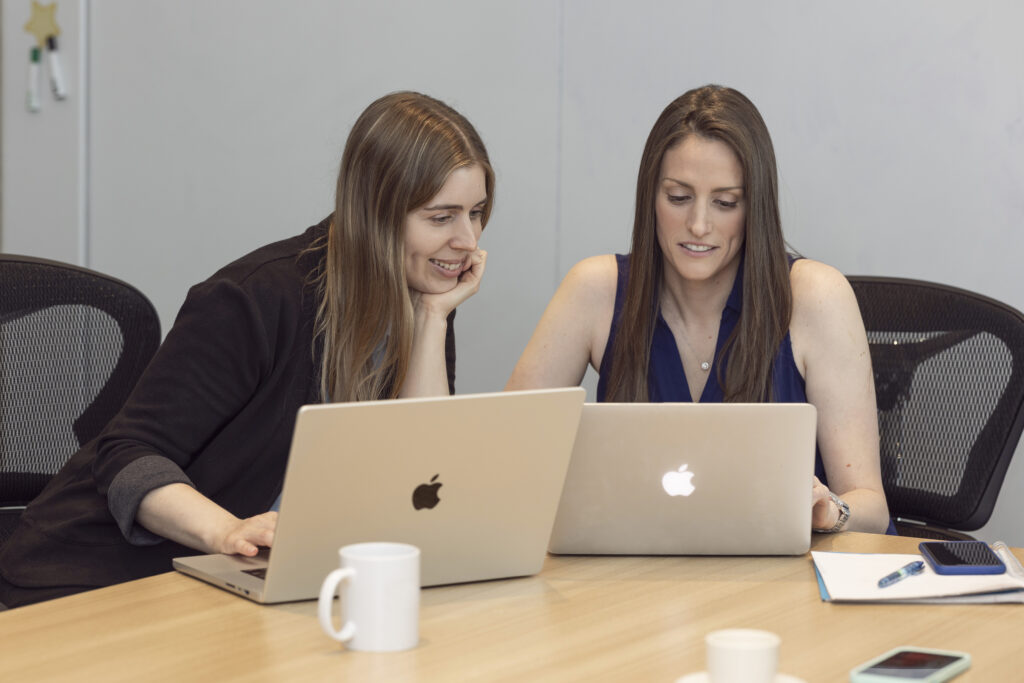 Increase Your Website Conversions 
Writing copy for your website can be a beast–and we say that as copywriters who enjoy doing it. So take our advice, and don't be too hard on yourself if you've already made some mistakes! Instead, take this as the motivational push to get your website copy on the right track.
Spend time creating a clear and concise new plan for your website copy. Then once it's planned, take your time writing and fleshing it out. Have fun playing with your brand voice and utilizing microcopy while giving your audience what they want (and need). Just don't forget to wrap it all up with the life-saver that is Grammarly!
Do you still feel like running for the hills when writing your website copy? Kick off your running shoes and save your sanity by passing the load to us! With an entire team of copywriters who LOVE finding the perfect balance in your copy, we can create high-converting website copy that'll give your website the high traffic you've always wanted.