Website Copywriters: The Secret to a Successful Website
What's a website without purpose-driven copy? Website copywriters have an important mission – getting people to find, stay, and buy from your website. While design may draw in visitors to explore your brand, the website copy is what gets them to buy from it.
When you harness the power of a supercharged website copywriter, your website copy can:
Drive traffic to your website
Increase conversions
Boost your brand awareness
Improve your SEO visibility
Help you stand out from the competition
Establish credibility in your industry
Communicate your vision and goals
Build trust with your audience
So, what's the secret to creating a website that does all the above? 
A website superhero (aka a website copywriter!).
They'll swoop in to save your copy just when you need them most.
Website copywriters at a performance-based copywriting agency know how to write copy that's tailored to your brand and goals. That converts leads into customers. 
They're experts on the structure of websites, custom-crafting messaging that checks all your boxes (and the search engines' too!). Website copywriters have an innate ability to capture your brand voice and amplify it consistently throughout your website copy.
And when you work with website copywriters in a copywriting agency, you'll have:
Multiple eyes on your copy to ensure it's on point
More experienced copywriters with collaborative skill sets

 

One less thing to worry about for your business
A new perspective on how to connect with your audience
Messaging that can be applied to other marketing channels
Expanded options with add-on services available
Hiring a professional agency copywriter, especially for small businesses, ensures maximum impact from all aspects of website copywriting services including sales pages, product pages, blog posts, services pages, and more.
So, how exactly do they do it? And why exactly do you need them for your business? We'll take a peek behind the mask and share all that (and more) next!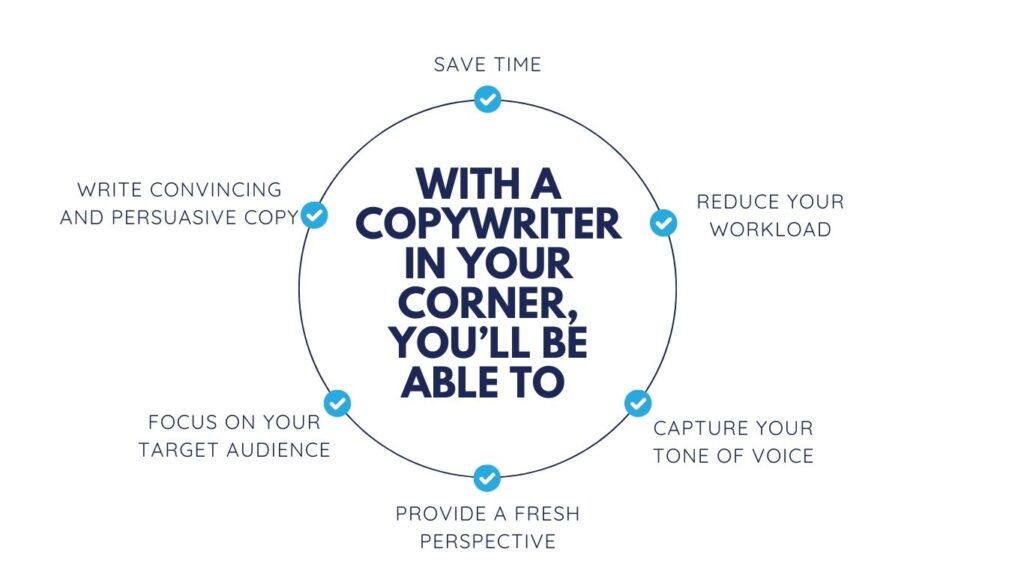 The Importance of Performance-Based Website Copy
With performance-based website copy, you're using the power of words to inspire action from your ideal clients and customers. These actions could include buying your products or service, signing up for your newsletter, booking a discovery call, or requesting a demo. Overall, you want your website copy to effectively communicate to your target audience in a way that delivers the results you want.
Now it's time for performance-based website copy to flex its superpowers. Small businesses, take note!
A successful website is all about engaging your website visitors so they're not clicking on your website and hitting the back button right after (no pogo-sticking allowed!)
Say goodbye to high bounce rates and hello to well-crafted website copy that:
Grabs the attention of visitors
Keeps them on the page longer
Encourages them to explore the site further
Let's look at an example of engaging website copy from our homepage to give you a better idea.
"Are you constantly sending out signals that no one's receiving?"
Asking a question and identifying the visitor's problem.
"Though you have an important message to share, you don't know how to get your ideal audience to see it, let alone read and act on it."
Showing an understanding of the issue at hand.
"We're here to save your content strategy and your sanity with SEO-optimized, purpose-driven website copy, blog posts, and social media content." 
Giving a solution to the problem.
"Ready to unmask your business's superpowers and build visibility, credibility, and leads? Rescue my copy and content (button text)." 
Asking a question followed by a call-to-action to contact us.
The goal is to engage your visitors and provide value to them through a solution. 
Here are some surefire tips to keep your visitors engaged with your website copy:
Choose a brand voice that resonates with your target audience
Speak directly to your visitors in a conversational tone
Break up longer sentences and blocks of text

 

Format pages with bullet points and headings

 

Always include multiple call-to-actions
When you have engaging website copy, your visitors have the tools to find everything they're looking for without complications. Once you have the engaging tone of voice down, it's crucial to cover the who, what, where, and why of your business with your brand message.