When it comes to procuring leads for your business, many entrepreneurs tend to toss out the idea of email marketing lead generation. Instead, they think of it as old school or something only popular amongst Gen X'ers. But according to the stats, that couldn't be further from the truth.
With 99% of consumers frequently checking their emails throughout the day and at least 73% of millennials enjoying updates from brands through emails, having strategic email marketing benchmarks is crucial for your business.
So if you thought email marketing was going away, then we've got some bad (but technically good) news. It's not. In fact, its importance within your marketing mix is only growing. Over the past 12 months alone, almost 8 in 10 marketers have experienced a surge in email engagement.
Leveraging email marketing to generate leads is one of the best and easiest things a small business can do.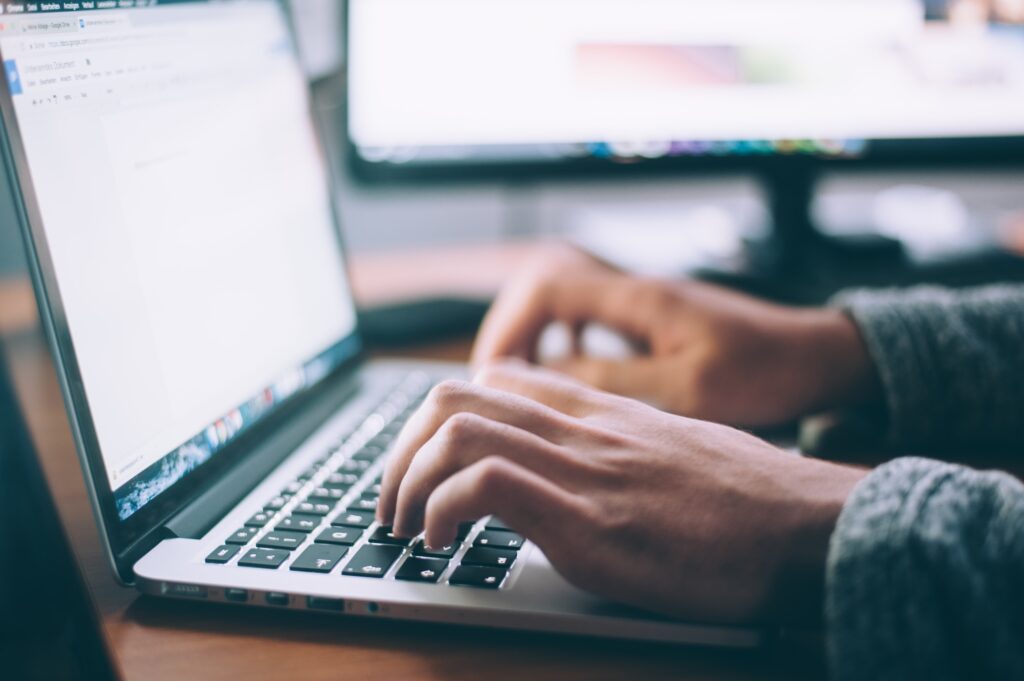 In this blog, we can't wait to show you all the reasons why email marketing is important for lead generation!
Benefits of Strategic Lead Generation
Before we unload all the benefits of email lead generation, let's first focus on the general benefits of strategic lead generation.
As a small business, you, more than anyone, understand the importance of having a revolving door of customers/clients. Whether you've got 10 employees or 0, there's the practical need to have a steady income so that you may keep things running AND sustain the lifestyles of those operating within your business.
If you were to depend solely on customers already in your network or clients you're already working with, you could be putting your business at a grave disadvantage. One that has you scurrying for clients or customers anytime a contract ends or the need for a cash injection comes about.
However, when you take preventative measures and have strategic lead generation steps in place, you're able to fill your funnel as a small business constantly. This, in turn, means that you always have a stream of clients or customers ready and willing to buy from you.
This not only sustains the success of your business but also primes your business to scale at any given moment.
And although we'll be discussing email marketing lead generation in this blog, we'd be lying if we didn't pay homage to some other effective ways for lead gen. Ways like:
Webinars
Ads
SEO
Reels/Social Media Content
Blogs
These are all great ways to keep your business funnel full at any given time. But as we mentioned before, nothing quite compares to that of the email marketing business.
Using Email Marketing to Generate Leads
Don't get us wrong, like you, our email inboxes are flooded. So, we understand your hesitation. However, despite the competition and common ailment of #inboxoverwhelm, when done correctly, using email marketing to generate leads can be incredibly effective.
Email marketing benchmarks in email lead generation campaigns tell a strong story. But don't just take our word for it. Here are some of our favorite statistics around email marketing for lead generation:
And that's why at The Written World, we believe that dedicating the time and effort toward developing an email marketing strategy is well worth it.
Email Marketing: How to Get Started
Can we celebrate the fact that you're still reading this because it means you're seeing the value in email marketing lead generation?!
If you're now wondering exactly how to get email leads in the first place, then let's tackle that question head-on.
Your leads typically enter your funnel in various ways. For example, they may have opted into your email list in exchange for a free resource, registered for a webinar, signed up for a discount, or interacted with your business online in another way.
Regardless of how they joined, the next step is on you! To truly use email marketing for lead generation, you'll want to start a strategic welcome sequence right away.
Depending on your industry, welcome emails typically consist of 4-6 emails that are strictly educational and value based. Start with a warm welcome that shows off your company's personality. Give them any necessary specifics like marking you safe and when to expect emails from your organization. Then start highlighting the value they'll get on your email list. You can share industry tips, exclusive content, and more. The purpose of this sequence is to build interest and engagement, so they turn into a lead or remain on your list until they're ready to become one.
Now that they know you, it's time to show them what you can offer. You can share an exclusive email subscriber-only offer or a mid-ticket offer that doesn't take as much convincing as some of your higher-end services or products might.
Here some additional tips that will be critical to keep in mind if you're using email marketing for lead generation:
Use punchy subject lines
Be clear and concise
Curate content to your audience
Segment wherever you can
Always have a call-to-action
Personalize your openers by using their first name around 3 times
Always think mobile-first for design
Your customers love feeling as though you're in their head or talking directly to them! The art to email marketing lead generation is to build relationships through your messaging.
More Lead Generation Emails
The great thing about email marketing lead generation is that it doesn't stop at welcome emails. Although a welcome sequence can be a great way to get people moving along in your funnel, there are tons of other types of lead generation emails or lead generation campaigns that can get the job done!
So, if you were crossing your fingers for full lead-gen email marketing how to, then it looks like you just hit the jackpot! Here are some of our favorite lead generation email examples:
Abandoned Cart Campaigns
If you're a B2B or B2C business, abandoned cart campaigns are one of the most powerful ways to re-engage your audience and keep them moving along your funnel.
Designed to trigger automatically should a potential customer put an item in their cart and leave the site without checking out, abandoned cart emails have accounted for almost 10% of recovered carts.
The trick? Keep them fun and catchy, like this email from Homes Alive Pets.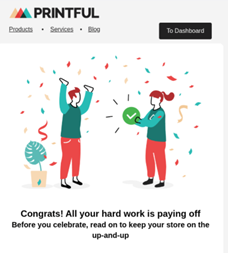 This email gives us a great lesson in "email marketing how to." It does excellent in elevating the brand's purpose, highlighting its brand voice while still reminding and encouraging the customer to come back and finish what they started!
Newsletters
Another great lead generation campaign to continually push are newsletters! Newsletters give you a great way of staying top of mind with your audience by letting them know what might be going on with your business, addressing what's happening in the world or their industry, and providing them value.
Take Printful's Newsletter, for example!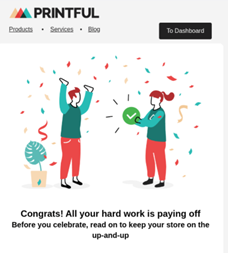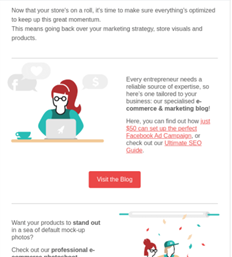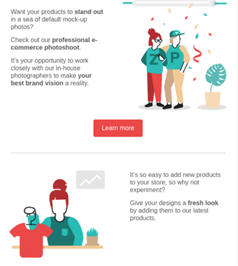 This newsletter is a fun way of checking in with a customer's progress on their platform (which encourages them to keep working within the platform.) But it also builds trust and momentum in the relationship by sharing valuable information through their blog (which lends website traffic) while also shamelessly plugging more ways to promote Printful business!
Special Occasion Emails
Last but not least on our list of lead gen examples is special occasion emails! These emails are sent on customer anniversaries, birthdays, holidays, etc. It's your way of reaching out to potential leads and showing them you care by honoring special moments in their lives!
Depending on your platform, special occasion emails for things like anniversaries and birthdays can be automated. They can also go one of two ways. First, they can be a simple reminder like this one from Facebook: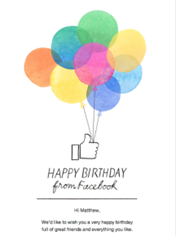 Or they could be padded with some potential revenue-generating copy like this one from St. Ives!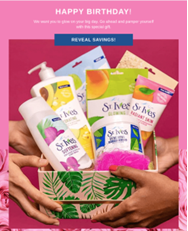 Though, no matter which campaign you choose, the prime objective is always the same: nurture your leads! By helping them learn about your business, its essence, and how you can serve them, you take them from being a lukewarm lead to a hot one.
Pro tip: Automate as much as you can! Set up campaigns that are always running so that you're generating leads without having to lift a finger. After implementation always track your analytics to monitor their effectiveness and improve them until you've got the perfect formula!
Build up Those Leads!
When it comes to lead generation, one thing is clear email marketing lead generation is a non-negotiable! And with so many tips and tricks in your back pocket, we think you're ready to take your first step in building up those leads.
No matter how you choose to start, the important thing is to start NOW. Email marketing is an exhilarating and profitable way to let your business prosper while connecting with your audience – and remember to have fun with it!!
Does email marketing still have you scratching your head? Then let us take it off your plate! With some of the best content creators in the industry, our email sequence and copywriting services can be the stress-relief pill you've been searching for. Get in touch with us to learn more!