Reach your target audience in the digital landscape with the power of SEO! When you incorporate SEO into your digital marketing strategy, you'll be able to drive more organic traffic to your website. This is done by improving your search engine rankings to make it to that coveted first-page spot!
We can't hype the importance of content writing in SEO enough! Content writing plays a pivotal role in a successful SEO strategy. As you implement SEO in your content, you'll notice improved website visibility, increased traffic, and overall higher conversion rates.
Ready to learn more? Let's dive into how SEO will transform your website content strategy!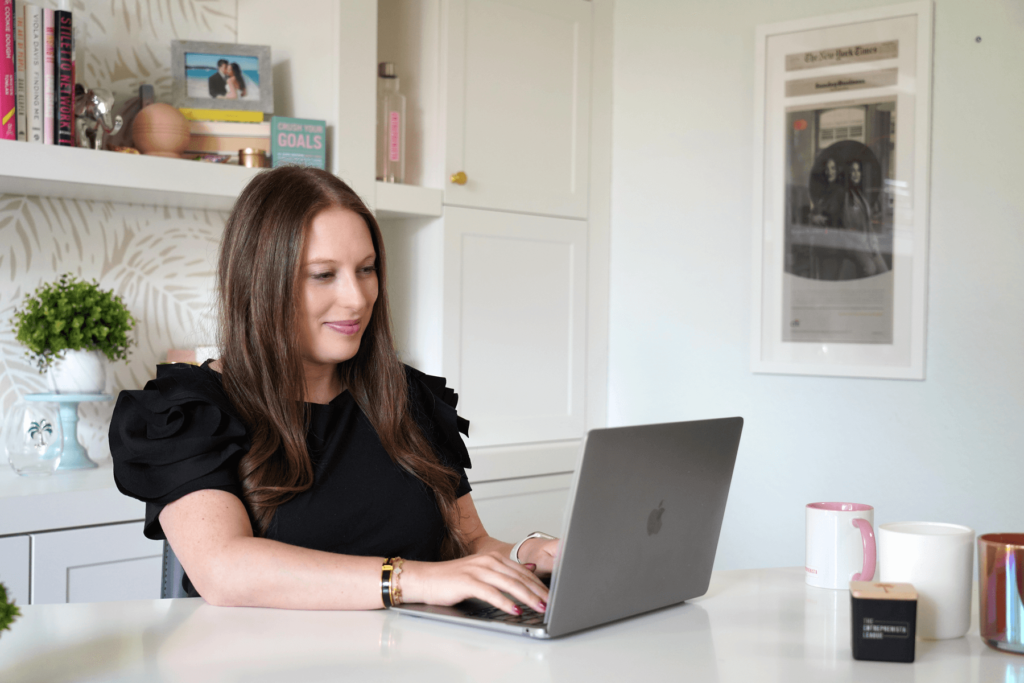 The Role of SEO Writing Services in Modern SEO
New updates and advancements in search engine optimizations are constantly updating. Search engines are perfecting their technology to provide the most relevant and informative results to their users. This means SEO writing services have also evolved over time to meet the demands of changing search engine algorithms (we know how difficult it can be to keep up!).
SEO writing services specialize in understanding the importance of content writing in SEO. If you want to attract new clients and engage your target audience, these services will help you get there! Hiring an expert content creation agency to craft your website content strategy for SEO means you'll save time and resources while gaining expert knowledge and skills. This all results in consistently delivering high-quality SEO-optimized content for your brand.
Diverse Types of Content Writing for SEO
The key to content writing for SEO? Diversity! Incorporating your SEO content across your website in various ways is essential.
Blog Posts
The importance of content writing in SEO and blog posts go hand in hand. Blogging is an essential part of boosting your SEO rankings for your brand. An SEO-optimized blog on your website helps to establish authority, drive organic traffic, and engage readers.
Blogs help to target long-tail keywords naturally throughout the content. The topics you cover will be related to your brand's product or service, along with industry insights (this helps to promote what you do and build your credibility in the process!). Plus, having a blog on your website provides value to the audience with resources they'll find helpful and enjoyable to read.
Product Descriptions
When a brand sells products on its website, it's essential to have SEO-friendly product descriptions for e-commerce sites. Having well-written product descriptions with SEO keywords can improve site ranking and conversion rates.
This improves the chances of these products coming up in a search engine search. Remember to naturally balance the keyword optimization with user-friendly descriptions seamlessly for the best overall user experience.
Landing Pages
Your target audience needs a point of contact to visit your website—enter landing pages! These pages help drive conversions with clear call-to-actions and content related to the search engine results.
You can also use SEO-optimized landing pages to attract targeted traffic for specific campaigns or products. Landing pages are also an excellent way to earn backlinks and make your content shareable. All of these factors add up to driving conversions through your SEO efforts!
Other Types of Content
Adding other types of content writing to your website is beneficial, such as case studies, whitepapers, and content pillar pages. These long-form content options give you more variety in how you target specific audience segments that find value in these resources.
When you diversify content types, you're catering to different stages of the customer journey (having multiple SEO-optimized touchpoints is crucial!).
The Need for Diverse Content
It's vital to have a mix of different content types to cater to a broader audience. You want to reach as many people as possible with your content to spread the word about your brand.
Diverse content aims to reach all of your SEO goals, such as driving organic traffic or increasing dwell time. Improve your overall website SEO with a varied content strategy that keeps your audience wanting more!
Essential Content Writing Skills for Effective SEO
Having a proven process that incorporates content writing skills is crucial for SEO success (our team at The Written World has perfected this!) We start by identifying relevant topics for your brand, perform in-depth keyword research, analyze the competition, and then get to writing. Our writing process encapsulates your brand voice and mission with flawless execution.
Our content writing skills ensure that everything aligns with your website content strategy. We have a website content checklist customized for your unique brand vision and goals. We use this checklist to ensure all essential elements of SEO-friendly content are included. When creating content for your website, we go down our checklist to ensure title tags, meta descriptions, headers, and keyword usage are consistent throughout!
At the heart of everything we do, the importance of content writing in SEO stays at the forefront. It's a cornerstone of any successful SEO strategy to ensure you're reaching your target audience. When you strive to get your website on the first page of results for relevant searches, watch everything else fall into place!
When was the last time you evaluated your current content strategy? That's okay if it's been a while! It happens. Especially when running a business, it's hard to find time to hone in on your strategies.
That's when seeking professional SEO writing services or consulting a content creation agency (like ours!) can pay off immensely for your brand.
At The Written World, we strive to create content that captivates and connects with your target audience. The result? Copy that compels and converts.
Our superhero team harnesses the power of SEO and infuses that into the copy we deliver. One of our greatest superpowers is knowing exactly how to optimize your posts to reach new search engine heights.
Learn more about our SEO writing services and explore the possibilities for your brand's growth!