If you're just getting started with SEO marketing for your business, you probably have questions like "what are meta titles and SEO meta descriptions?" and "do meta descriptions affect SEO?" These terminologies and acronyms might sound a bit intimidating, but they're really not that complicated! We're here to walk you through the ins and outs of what are meta titles and descriptions and how to write meta descriptions for SEO. Let's jump right in!
What Are Meta Titles?
A meta title for SEO (also called a title tag) is the title of the web pages on the search engine results. When searching for something on Google, you'll see the meta title in blue and a larger font that links to your result when clicking on it. This shows up as a headline of the topic you're about to read on that specific web page—quite literally, the title of that page!
If you're still asking yourself, "what are meta titles?" here's a screenshot below to give a visual example (this helps to see exactly what they are—we see them every day without realizing it!)

Here are some examples of meta titles with all of the blue titles that show up on this search engine: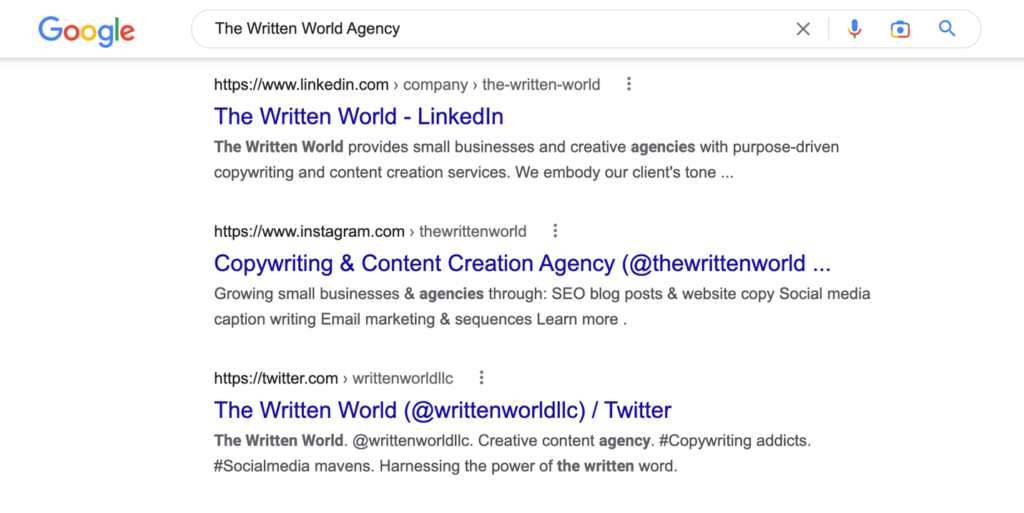 These examples of meta titles give whoever is searching for our agency all of the most relevant pages with a clear and concise meta title for SEO purposes. These titles are designed to let the person searching know right away what to expect in the page contents. By glancing at these meta titles, you can see our social media profile handles in the first line, so you know what you'll get when you click these titles.
What Are SEO Meta Descriptions? 
An SEO meta description is a short summary of what to expect with each result on the search engine. These have a 160-character limit, where one to two sentences will do the trick! Relevant and straightforward, these bite-sized SEO meta descriptions inform and convince the user to click that specific page. It lets you get an idea of what information you'll find on that page just by skimming through your search results.
Here's another visual example below showing exactly where to look for SEO meta descriptions:

Do meta descriptions affect SEO? Yes, they absolutely do! Adding SEO keywords to your meta titles and descriptions helps boost your visibility in search engine results. Beyond the SEO keywords, it helps to have all the important details in the meta descriptions so that when someone decides what page to click on, they choose yours. Think of SEO meta descriptions as a mini-elevator pitch for your web page with the added bonus of SEO-boosting power.
How to Use Meta Titles and Meta Descriptions
Now that we've scratched the surface of meta titles and meta descriptions, let's go over the best way to write meta titles and how to write meta descriptions for SEO. Though these might be an afterthought or a last-minute task for you when creating pages for your website and blogs with SEO keywords, they should never be overlooked!
Here are some tips and best practices to get started writing meta titles and meta descriptions:
Include SEO Keywords
Add your high-volume and low-volume keywords whenever possible in both your meta title and meta description to optimize your website. Don't overstuff it, so it doesn't make sense, but try to at least include one to two focus keywords. Google highlights keywords in meta descriptions and is more inclined to match the text via the user's search keywords. These keywords also let the person know what to expect when they click on your page.
Stay Relevant to Your Content
Never add text or keywords that are click-bait-like to entice people to click on your site. When Google catches websites using misleading meta descriptions or titles, they penalize sites by not showing them on the top results. It makes sense that if you write metadata that doesn't correlate with your content, you'll get an increased bounce rate, with people leaving your site for a better option. Be as relevant as possible to what you have to offer anyone visiting your web page results.
Avoid Going Over Character Limits
When it comes to your meta titles and descriptions, keep them concise! Short and sweet is the best policy for whoever is using a search engine. Google will display the first 50-60 characters of a meta title and 150-160 characters for meta descriptions. Use the space wisely and stay within the character limits to avoid your text getting cut off, and causing any confusion with unfinished titles or descriptions.
Use a Call-To-Action
A call to action (or CTA) is typically used to prompt a response or encourage a sale. Think about your meta description and title as an opportunity to sell your content to users. This will encourage them to visit your page over the other results. This can be done in a subtle and short way to boost click-through rates and stand out from the competition. You can use phrases like 'learn more,' 'find out,' or 'try for free' to entice people to your site. Let people know exactly why they should click on your link and what to expect when they do.
Stay Original and Unique
Having a catchy title and meta description that exhibits your brand voice and is original will help you stand out from the rest. Don't just duplicate meta descriptions for all of your website pages, or they will all look the same. Start with your high-priority pages and work your way down to the lower-priority pages. The originality is what gets users to click on your site from the rest.
SEO Meta Descriptions and Titles Made Easy
You made it to the end (yay!) And hopefully, you're no longer confused, asking yourself, "what are meta titles and SEO meta descriptions? It's true that the concept of these terms is fairly simple, yet actually finding the time to go through and SEO optimize all of your meta titles and descriptions for your websites (and who knows how many blogs!) can be extremely time-consuming, especially for a small business owner who's already doing the most!
Let us be your SEO superheroes! The Written World's SEO experts will transform your web pages and get your results showing up in Google searches. Send us a message to find out how we can help supercharge your website's SEO metadata.