Establishing a consistent and genuine tone of voice with your brand is essential in content marketing. Your brand's tone of voice is created through your words, whether written or spoken. It's about how you say something that makes a lasting impression on your audience.
Each business will have their own unique tone of voice. It's up to you to decide how you want your brand to sound. Will you be more formal or more conversational?
When you figure out exactly what your brand should sound like, find the words that best describe tone of voice. But do you know how to describe a voice for your brand?
First, let's cover the basics of tone of voice for content marketing. Then you can use our list of words that describe tone of voice to spark your creativity. Now, let's find your brand voice!
What is Tone of Voice in Communication?
Tone of voice in communication is both the way you speak and how you write. When you record a story of yourself talking to your audience or post a reel, how are you addressing your audience? This should be cohesive with the way you write on your website, newsletters, social media, and blogs. Anything that's client-facing has a tone of voice—it's up to you how you want that to come across to your audience.
It's one thing to have perfect grammar and purpose-driven content, but you also need a unique brand tone of voice. When addressing your audience, it's important to have a recognizable brand voice that they identify and relate with. This should stay consistent across all of the platforms where your audience interacts with your brand. Consistency and reliability with your tone of voice are key parts of developing your brand guidelines.
How to Describe Voice in Writing?
When searching for ways to describe tone of voice in writing, focus on your tone and attitude. This is how you can express your personality through your brand communications. Think about the way you speak in conversation—this will help in describing tone of voice for your overall brand identity.
Are you looking to be funny or serious? More formal or casual? Stay away from writing in a negative tone of voice that can come off as being rude or short with your audience.
Some examples of negative tone of voice include words that are:
Complaining
Argumentative
Hurtful
Hostile
Annoyed
Offended
Accusatory
Aggressive
Let's avoid the negative and instead focus on words that describe tone of voice in a more positive manner for your brand.
Words to Describe Tone of Voice
When describing voice in writing, the goal is to establish your brand tone. This is especially useful when you're onboarding and growing your team or hiring freelancers to communicate your specific brand's tone of voice. You want to ensure consistency of your tone across all channels, so having a brand guide with your tone of voice is crucial.
If you're looking for inspiration to create your brand voice, use this ultimate list of words that describe tone of voice:
Admiring
Ambivalent
Amusing
Animated
Appreciative
Assertive
Authoritative
Candid
Carefree
Caring
Casual
Chatty
Cheerful
Clever
Coarse
Compassionate
Confident
Conservative
Considerate
Conversational
Determined
Direct
Dry
Earnest
Edgy
Empathetic
Encouraging
Energetic
Entertaining
Enthusiastic
Excited
Familiar
Foolish
Formal
Frank
Friendly
Fun
Funny
Generous
Gentle
Honest
Hopeful
Humble
Humorous
Informal
Informative
Inquisitive
Insistent
Inspirational
Intense
Ironic
Irreverent
Kind
Light-hearted
Lively
Matter-of-fact
Modest
Nostalgic
Optimistic
Passionate
Playful
Powerful
Professional
Proper
Provocative
Quirky
Relaxed
Respectful
Romantic
Sarcastic
Sensitive
Serious
Silly
Sincere
Smart
Snarky
Straightforward
Supportive
Sympathetic
Thoughtful
Tolerant
Trendy
Trustworthy
Truthful
Unapologetic
Upbeat
Witty
As you're describing voice in writing (using our list of words that describe tone of voice above), it helps to gain a better understanding of the ethos of your business for content marketing.
Creating Your Brand's Tone of Voice in Content Marketing
Once you've defined your core values and created a mission statement, tone of voice is the next step for your business. It's important to know what your "why" is before establishing your tone of voice. This is how you'll stand out from the crowd and demonstrate your brand values.
When interacting with your clients, the goal is to build brand awareness and connect with your audience. After selecting words that describe tone of voice, use these as a guide when observing how your audience interacts with your content.
See what people are saying about your brand and the conversations happening in your comment sections or feedback you've received. If you don't have a lot of this to go off with your own brand, look at competitors to see how their audiences interact with them.
When you're doing this audience research, see how they're speaking. Is it casual or formal? Are they using slang or emojis? Are they talking to brands directly? This will give you an idea of how your target audience communicates. See the interactions and take notes for your own brand tone of voice.
Setup your brand tone of voice guidelines with:
Details about your target audience
Whether you're more formal or casual
Brand core values and mission statement
Words to use and to avoid
Specific grammar rules
Your brand style guide will help your team better understand the tone of voice used across all content marketing.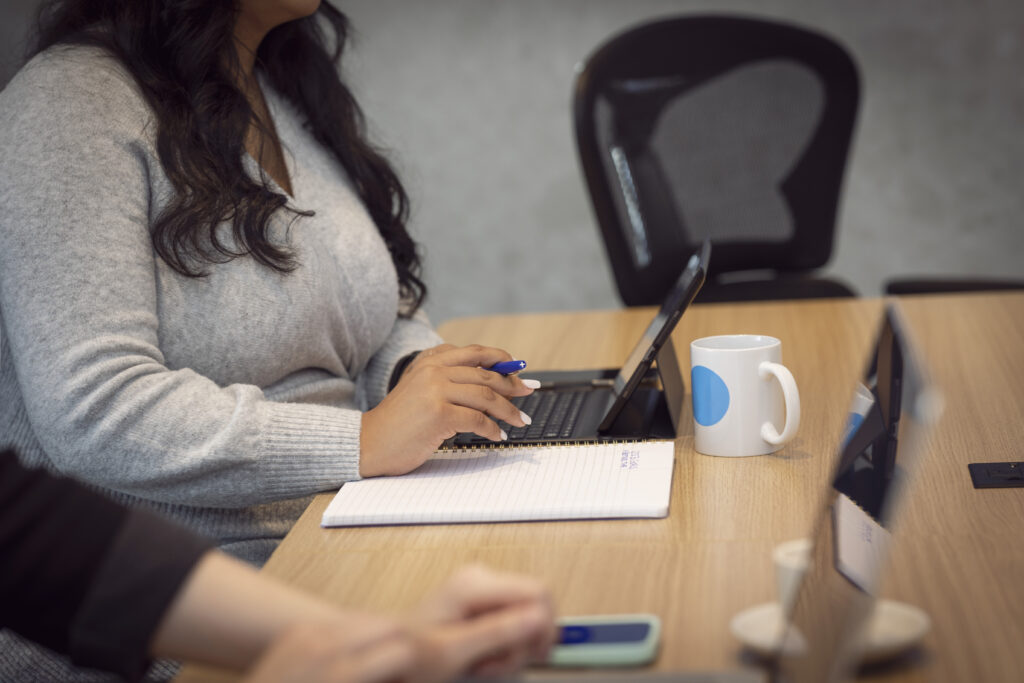 Boost Your Brand's Unique Tone of Voice
Now that you have your master list of words that describe tone of voice to create your brand voice style guide, it's time to put it into practice! Keep your tone of voice consistent across your website, social media, blog, newsletters, and anywhere else you communicate with your target audience. The consistency and quality of your content are what will drive your brand recognition.
Trying to continuously come up with content that matches your brand voice can be exhausting. Especially if you don't have the time or energy to keep up with all of your communication channels. You have a business to run, we get it! That's what we're here for at The Written World, to make your life easier.
Learn more about our copywriting and content creation services. We'll utilize your unique tone of voice to help you grow your brand with quality content!